Programme Schedule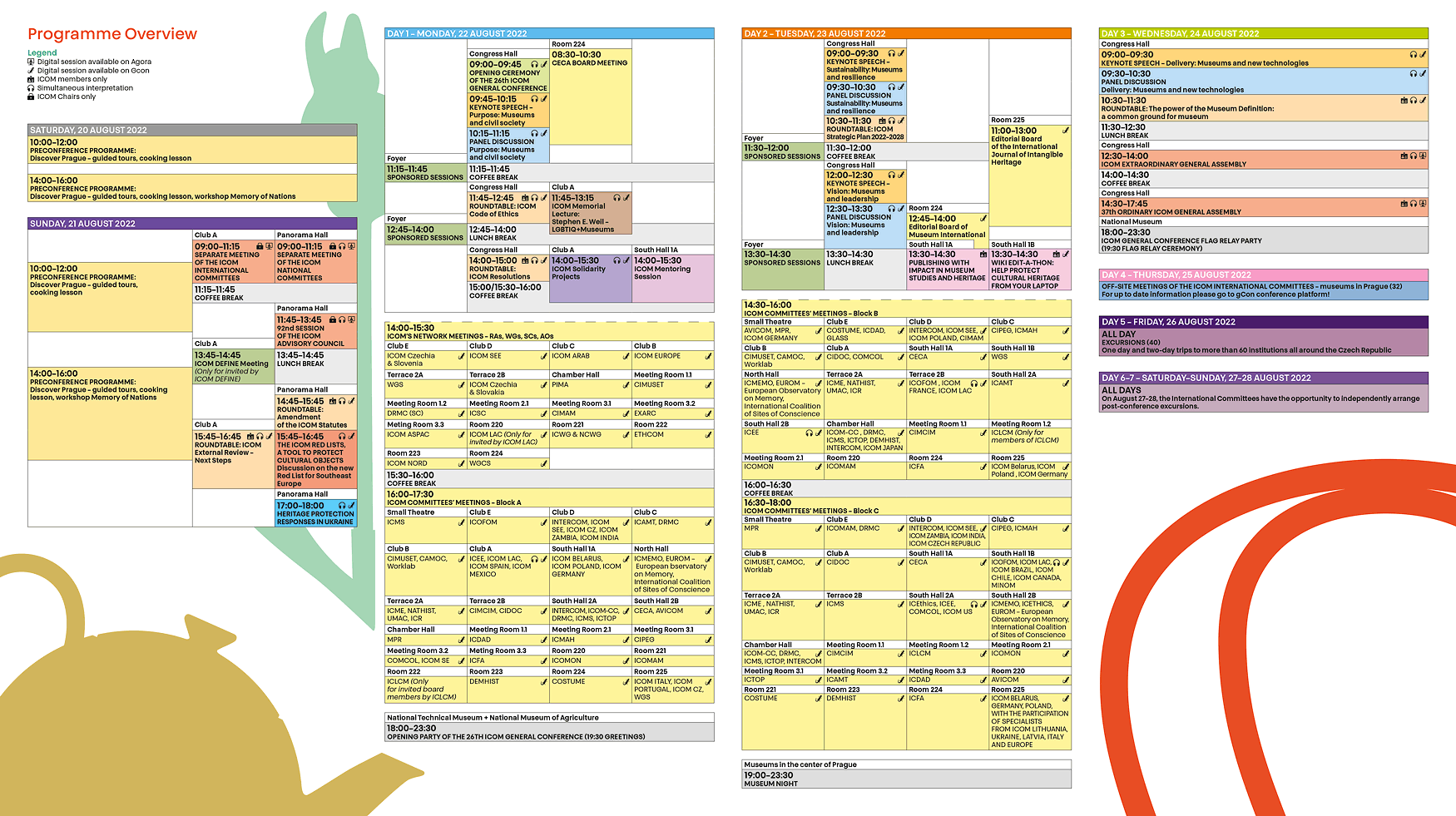 The 26th ICOM General Conference – ICOM Prague 2022 takes place from 20 to 28 August 2022 in the capital city of the Czech Republic. For the first time in ICOM's history, the General Conference will be organised in a hybrid mode.
20–21 August, ICOM Statutory Meetings will take place. ICOM Advisory Council, as well as the Separate meetings of the ICOM International and National Committees.
These meetings are open to particular Board members, while a pre-conference programme of guided tours and activities around Prague will allow participants to discover the city before the start of the main programme.
On 22–24 August, the main scientific programme will take place at the Prague Congress Centre and online. This will be including keynote speeches, panel discussions, workshops, round tables and other activities, as well as networking sessions for new ICOM members.
ICOM Prague 2022 will also include a variety of social events for participants to fully enjoy all that Prague has to offer.
On 22 August the Opening Party is scheduled in the shared building of the National Technical Museum and the National Museum of Agriculture. This will be your first chance to get to know museum professionals from across the globe!
On 23 August a Museum Night will be hosted by member institutions in the centre of Prague. This will be a unique opportunity to stroll around the Old Town and experience a dedicated cultural programme, ranging from special exhibitions to concerts, guided tours and fashion shows.
On 24 August the ICOM General Conference Flag Relay Ceremonyat the National Museum will be the occasion to celebrate the accomplishments of the Conference and to formally hand over the ICOM flag to the hosts of the 27th ICOM General Conference.
On 25 August, the 32 ICOM International Committees will hold their own meetings in ICOM member museums located in Prague and the surrounding area. The "off-site meetings" will include expert lectures, workshops, presentations by the host museums and more.
On 26–27 August, conference participants will travel from Prague around the entire Czech Republic for a total of 40 excursions that will explore the Country and its rich cultural and natural heritage. The excursions will last for 1–2 days and will provide ICOM members with a chance to get to know different Czech museums and their excellent conservation and promotion activities.
On 27–28 August, the International Committees have the opportunity to independently arrange post-conference excursions.
Detailed timetable and programme to be added soon, stay tuned!